It's been a tough week for my faith in humanity.  It started out at the water park this weekend, when several adults accused three girls of cutting in line for one of the rides.  The girls maintained that they had been in line the entire time, but the two groups of adults kept insisting they'd cut. I assumed that they hadn't seen the girls, as most of the accusers were behind us, the girls in front.  One group of adults then jumped in front of the girls to get ahead in line, while the others just kept insisting that the girls line up again.  We just let the girls go when it was their turn, but I didn't realize that they were crying until Woo told me at the end of the ride.  Then I got mad.  These were children, trying to have fun at a WATER PARK, you know, a magical wonderland for children.
Then Monday, Woo came home upset.  He'd been biking home, and a car honked at him when he stopped at a stop sign.  Woo is a very conscientious cyclist.  He has researched the rules of the road, and has been taught by both parents to respect them.  He does, without fail, so I reassured him that he'd done no wrong, and should continue to stop at stop signs.  I've also been honked at for stopping at stop signs when I am driving my car, so I knew how puzzling this could be.
This afternoon, I was making an appointment for Goose and missed a call from Woo.  It was followed shortly after by an urgent text from Willy, asking that I "call now!!" I hung up on the doctor and called back.  He reported that Woo had been in an accident, and that he needed to be picked up.  I flew out of the house and drove to the spot on Woo's route home (the long route that he takes because it is through the neighbourhood and less busy, the route we'd thought would be more safe).
When I arrived, he was standing at the side of the road talking on the phone with his dad.  A neighbour* was standing beside him, keeping him company and keeping him calm.  Woo's bike was laying on the road, in pieces.  I grabbed him in a hug and he started crying.  He was bleeding and bruised and scared.
Woo explained what happened, as best he could.  He'd been riding on the road, about 1.5m from the curb.  He heard the car come up behind him, and started moving closer to the curb when the driver honked at him, startling him.  He looked at the car to see what the driver wanted and veered off into a brick mailbox. Hard.  He didn't understand why he'd been honked at, when he was doing nothing wrong.
To the driver of that car, the thing I don't get, is how do you not stop?  Woo is a clearly a child, in his school uniform, with his backpack on his back. He crashed his bike AS YOU WERE PASSING HIM.  There is no situation where I would ever drive away from a cyclist who had crashed, especially not a child. As much as I am relieved that Woo is mostly OK, I am so angry at this driver. You have to be a special kind of horrible to keep driving. Now I am angry and scared that there are people out there who care so much about where they are going, or what they are doing, that they trample all over children (both literally and figuratively).
*I am so grateful to the neighbour who stayed with Woo while he waited for me.  He was the bright spot in an otherwise terrible event*
Woo's bike, in pieces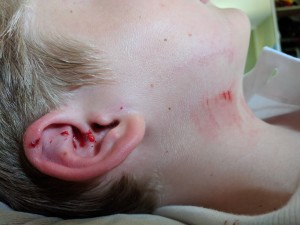 Some of Woo's wounds