When Goose was born, she had a full head of dark hair.  It slowly fell out in the first few months, and was replaced with the finest white gold hair.  That hair grew in slowly and by the time she was a year old, I tried to force a "first hair cut" moment, but there wasn't much to cut, so it was more of a 'tidy up the wisps' kinda trim. A little while after this trim, it started growing and growing.
By the time she was two it was long enough to do things with, but I had barely put any effort into styling her hair.  Most of my attempts were met with tears from the brushing, and resulted in a sloppy mess.  Goose would frequently come home from day care at the fabulous N's with her hair elaborately done up, and I would be mostly in awe of what N had done, but also a little embarrassed that my efforts were never even close to looking that good.
Moving to India brought about two changes in our routine.  We switched Goose from the baby shampoo to a shampoo and a conditioner, which greatly helped with the tangles, and we had to start braiding her hair every night to prevent her from getting really bad heat rashes while she slept. Sure, we still had battles over the brushings, but we both got adventurous and saw some of the fun things that we could do with her hair, and I got MUCH better at doing it.
About three months before we moved home, Goose decided that she wanted to cut her hair off.  She had a friend at school that had a really cute short 'do and she wanted to try something like that.  Realizing that her hair was long enough to donate, I talked to her about donating it to have it made into a wig for children undergoing treatment for cancer.  It took some explaining, but she understood and decided that she wanted to do that.  Sadly there was nowhere to send it in India, so she decided to let it grow longer and cut it in Canada. When we returned to Canada, she decided to wait until summer, when her hair would be even longer.
Summer is here, and Goose had decided that the time was right, so I got her an appointment at a local salon today.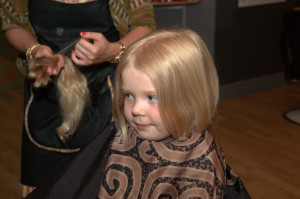 checking herself out after the initial cuts

I am really proud of my little girl, who had her first real haircut today, a sixteen inch cut of hair that took her four years to grow. We will be sending it into to one of the charities listed on the Canadian Cancer Society's website, and hope that the wig it is used in will make one child's battle with cancer just a little bit easier.
Goose was so sure of this through the whole process.  She was confident in her decision and never wavered, even when the cut was imminent.  Her reply was always that she wanted to help other children by making wigs.  Even when I offered a trim or a cut that was just at the minimum she would tell me that she grew it longer to help more.
When I asked her what she thought of her haircut at bedtime, her reply was, "I love it, I have an awesome haircut".  She's a pretty awesome little girl!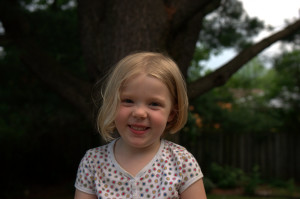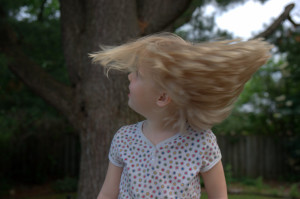 some awesomeness