Biriyani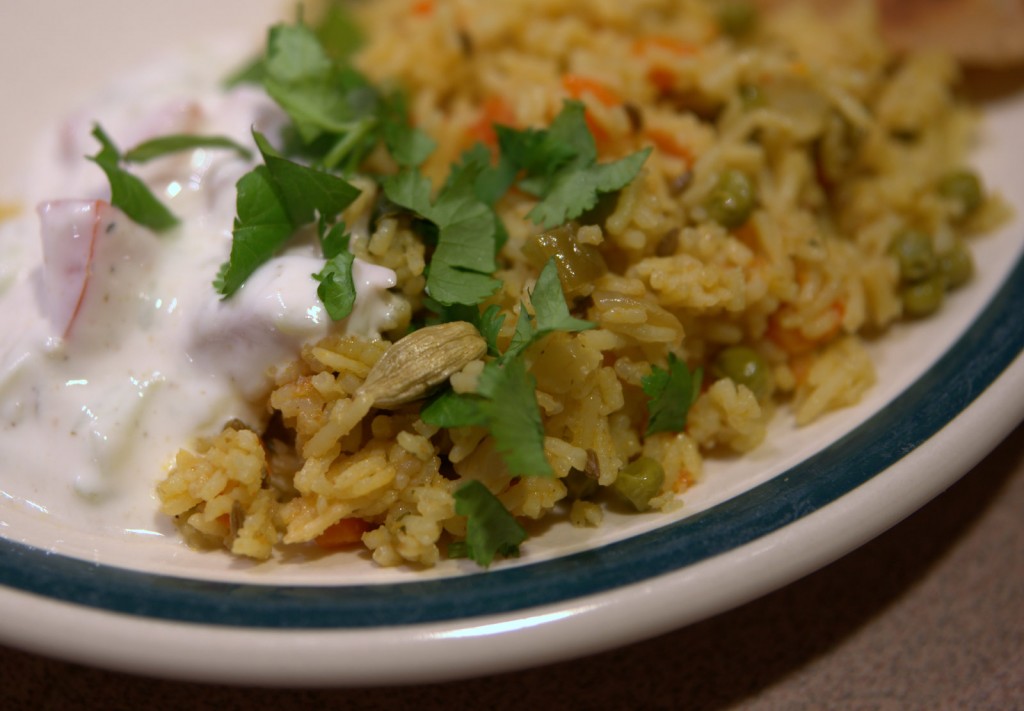 One of the things that I developed a great appreciation over the last year was a good biriyani.  It's not just rice; there is so much goodness there… Living in Bangalore. we were lucky enough to have access to a really good selection of various types of biriyani, and to learn how that truly appreciating a good biriyani involves raita mixed in and no bread at all. It really makes it all that much better. Trust me, mix it in.
Lakshmi, our awesome cook, taught me how to make this veg biriyani in the weeks before we left.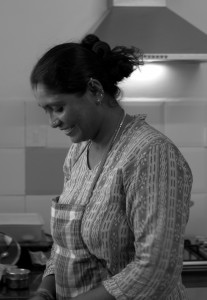 I hadn't made it until this week, as I was afraid that it would not taste just right.    While the rice was not quite perfect (I think I need to fry it at a slightly higher heat..), the flavour was great. My house still smells of India…

Veg Biriyani
1 tbsp ghee
1 tbsp sunflower oil
* ½ cup cashews (optional)
1 cardamom pod
2 cloves
2 pieces of cinnamon, about 1½ " x ½
1 star anise (optional)
1 tsp fennel seeds
2 bay leaves
5-7 black peppercorns
1 – 1½ tsp garlic-ginger paste
1 onion, chopped
¼ green chili, seeds removed, chopped (optional)
2-3 mint leaves, chopped finely (optional)
1 tomato, chopped
2 carrots, chopped **
6 green beans, chopped **
¼-½ tsp garam masala
¼ tsp turmeric
⅛ – ¼ tsp salt (to taste)
1 cup basmati rice, washed
½ cup frozen peas
1 tsp ground coriander
1 tbsp cilantro, chopped very fine
2 cups water
** Note that you can vary the vegetables, but don't use mushrooms, they alter the flavour too much **
In a medium saucepan, heat ghee and oil on high. *If you are using cashews, add to hot oil and fry for a minute or two, then remove and set aside to be added at the end.*
Add cardamom, cloves, cinnamon, star anise (opt'l), fennel seeds, peppercorns, and bay leaves.  Stir and cook for 1-2 minutes to roast (don't burn, you should be able to really smell the spices when ready)
Stir in ginger-garlic paste, onions, and chilies and mint (if adding) and cook until golden brown (about 3 minutes)
Add beans and carrots and cook until tender, about 3-4 minutes.
Mix in garam masala and turmeric.  Stir well to coat everything.
Add tomatoes and cook for 5 minutes – until soft.
Reduce heat to low, add salt and cook for 5 minutes.
Add rice to pot.  Cook for 3-4 minutes, stirring occasionally.
Add peas to rice and cook for 3-4 more minutes.
Add powdered coriander and cook 2 minutes
Add water and simmer covered until water is gone, about 15 mins (rice is slightly under cooked at this point).  Stir in in cilantro and turn off heat.  Leave covered on hot stove for at least 15 minutes.
Serve with raita.