In the last decade or so, we have lived in four homes, in three different countries. Every place, every city, every home is different. Each has its own quirks and unique features, and sometimes those come in the form of uninvited guests.  We have had them in every place that we've lived. Some of been amazing and added to our lives in ways we never anticipated.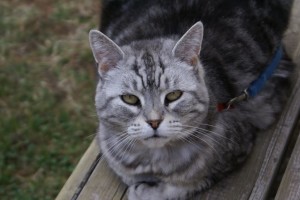 Minerva, the stray who chose us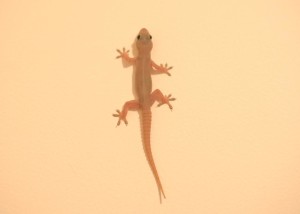 One of the many Geckos in our house in India.  The lils felt they took care of them.

Two of the foxes that come to our yard in the spring

For the most part the rest have been a giant pain.  We have lived with centipedes, mice, carpenter ants, spider families, and cockroaches. All of these caused me varying degrees of discomfort, but eventually have left me curious and appreciative of how each lives and encroaches on our lives. Each infestation was eventually dealt with, allowing us to resume our "guest" free existence.
When we decide to move to San Jose, I considered the types of pest that we may encounter. I wanted to be prepared. Cockroaches were given; all hot climates have them, but after the giants we faced in Bangalore, I knew that I could handle them.  Same for ants and termites, as we'd dealt with them too.  I even thought we might see a scorpion or two, as they do live in the area. We've been lucky so far.  All of the cockroaches have been outside, the ants tiny and easily controlled, and no scorpions yet, though we did see a tarantula!
On Sunday our luck changed. We came home from the market to discover that a plum had been eaten on the kitchen counter. I suspected a gecko or lizard might be the culprit, as I've heard that they do this, and have seen gecko poop in the house. I tidied up and didn't think about it again, until that night, after the lils were in bed. I heard a thump followed by the sound of something rolling in the kitchen and knew a little hadn't snuck by me, so I sat paralyzed by the questions running through my head.  Had the gecko return for more snack? How big was the gecko, if it was pushing fruit off the counter? Did I want to know?
I gathered my nerve and went into the kitchen to pick up the mangled tomato off the floor. Convincing myself that it was possible it had just rolled out of the bowl and gotten crushed on landing, I made sure all of the other fruit was placed in bowls so that it would not fall out.  Twenty minutes later I heard the same thump and roll sounds, repeated three times in quick succession. Something was up. This time I found three nectarines, each one with a chunk missing. I posted a picture on Facebook stating that I hoped it was a gecko or lizard.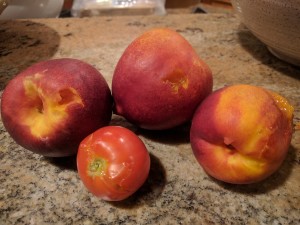 At this point, a local friend pointed out that fruit rats were known for "sampling" fruit but not eating it, and that our community has a large population of these rats.  I mentally dismissed the suggestion, because I could not accept that there might be a rat in my house.
Time moved slowly and I started to worry that she was right. I sat in the entrance to the kitchen, hypersensitive to any little sound or movement, wanting to see what was eating my fruit. I heard it before I saw it. The noise became a shadow under the counter, climbing the chair. When I came into the light, it was clear we had a rat. No one told me that we might have rats in the house. I was not prepared for this. I held my breath and stood up, not knowing what I was going to do.  In an instant it disappeared back into the dark.
I am terrified of rats. Not in the quaint stand up on a chair and yell "eek" kinda way. In the "I've been traumatized by working in a building that had many rats, huge city rats" kinda way.  I kept seeing them alive, and then later discovering their corpses. There were many and it was horrible. It got to the point where I had to go to therapy to stop thinking of them and continue to go in to work. Sunday those feelings came flooding back, and I have spent the past two days on the verge of tears on many occasions, with a horrible pain in my stomach that only goes away during the brief times that we have left the house.
With Willy away, I had to call in professionals. The exterminator came today and left a pile of traps. One rat is dead, and he thinks he's found where they're coming in. I hope so this is the end. I need this to be over quickly. I need my house to be free of rats.