Since we moved home, I have tried really hard to only do our laundry during the off-peak rate periods for Hydro.  Through trial and error, I have determined that this time, for me, is on the weekend.  If I try and wait until after 7:00PM, I frequently forget about the laundry until the following morning (at the earliest!), at which point it needs to get washed again.  If I set the time on the washer to have it finish before 7:00AM, I forget it until much later in the day, or the next day, at which point it needs to be washed again.  Saturday and Sunday works, and we usually have about four loads, which get done pretty quickly.
This weekend featured the perfect storm of two weeks' worth of laundry due to our trip to Toronto the previous weekend, clothes from a business trip for Willy, tonnes of new clothes procured at a local consignment sale, and the extra laundry generated by the shoulder-season weather we have been experiencing, hot and sunny – cold and rainy – hot and muddy.  As the TENTH load of laundry went into the washer last night, I sat down to fold and sort the other nine.
The actual folding was pretty fast, but I enlisted Willy to match up the socks.  I'm not a fan of socks in general, and matching them up is a bit of a pain to me, so the sorting goes to him on a regular basis. We chatted as we worked, and when the matching was completed, Willy looked over at the piles, and said, "how did that happen?" Neatly stacked on the end of the couch was a pile of socks for Willy, and a pile of socks with roughly the same number of pairs for the rest of the family.
"Oh, I can tell you how that happened," I replied, "you have issues with socks." I've known this for a while about Willy. The man cannot let go of a pair of socks, regardless of their condition. It seems that the hole-y socks are the most loved, despite my efforts to throw them out on laundry day. Case in point, today's socks: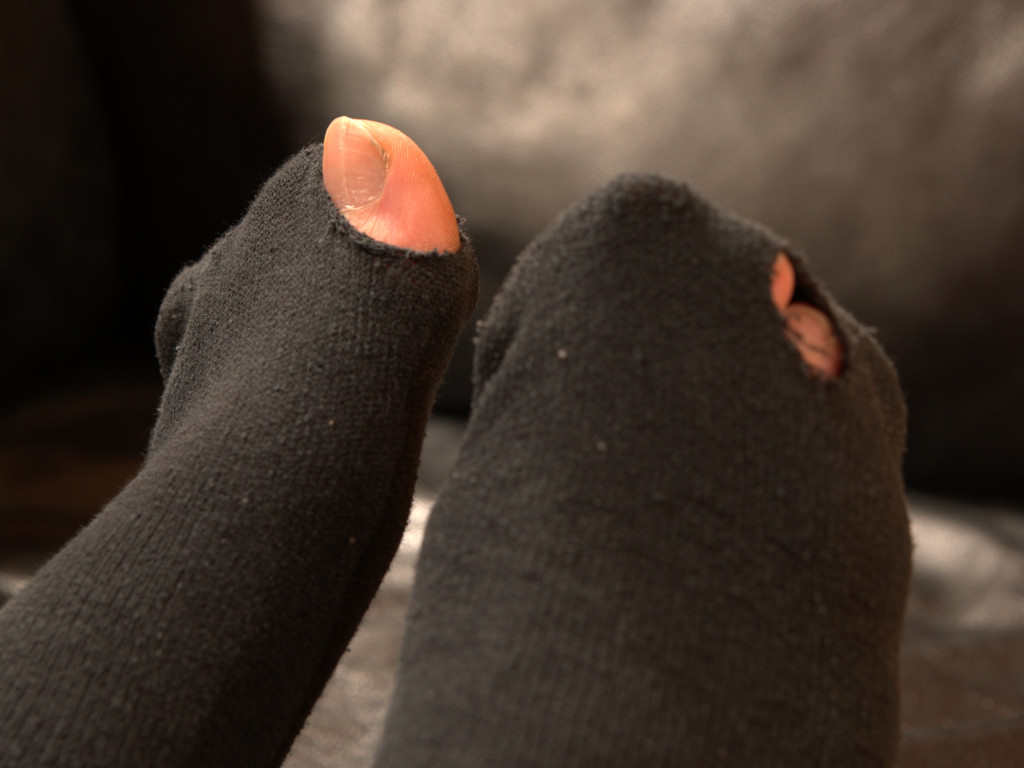 (not pictured, the hole on the bottom of the left foot)
He claims that he needs different socks for different sports, and I accept that is a valid argument. To a point. Willy currently plays two sports, and only one of them on a regular basis.  He owns roughly a hundred pairs of socks, which he sorts by colour and stores in two drawers of our dresser.  His socks, approximately 100 pairs of them, take up more room in the dresser than all of the shirts I own. Oh yes, I can tell you exactly how that happened.  You have a problem with socks.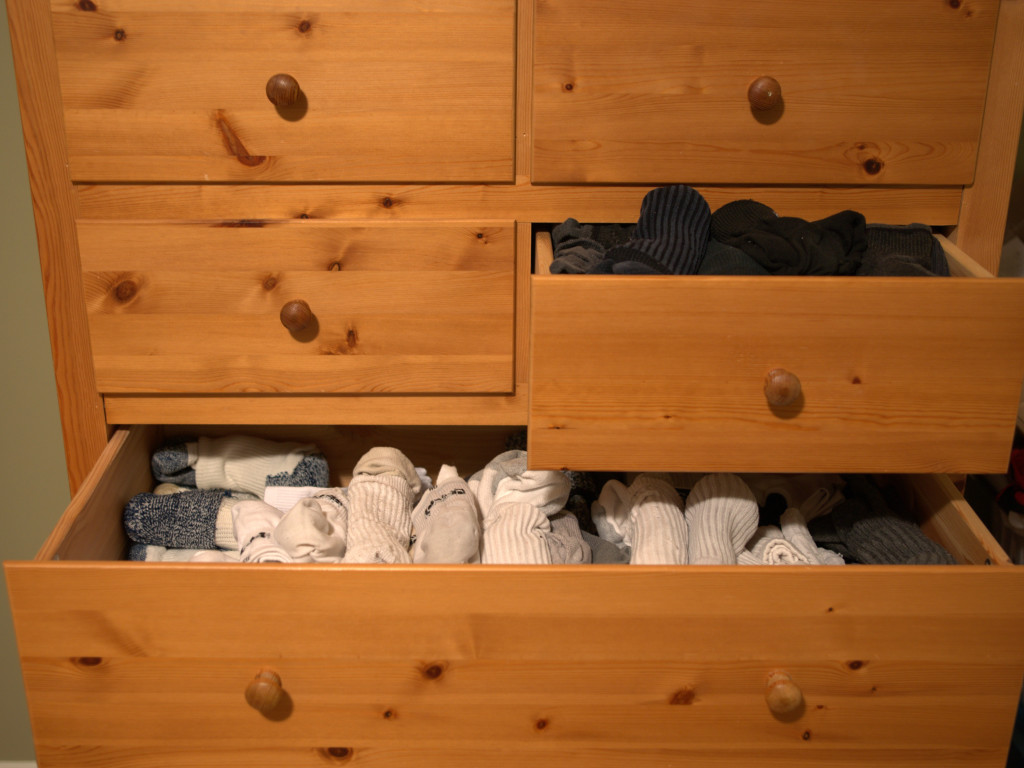 Willy's sock drawers