I took the lils to the locks this morning to see if we could catch some boats going up or down the last series of locks where the canal meets the Ottawa River.  The entire process through these seven or eight locks takes a little over an hour, and there is lots to see and do around the canal if they get bored waiting during some of the slow parts of the process. It's the perfect FREE entertainment for a sunny summer morning. We arrived a few minutes before our friends, so we waited at the top of the locks.  A group of ducks had arrived shortly after we did so they kept us entertained.  The water level in the canal was even with the water in the first lock, so they were able to walk across the lock and swim around in the water that was trapped in the lock.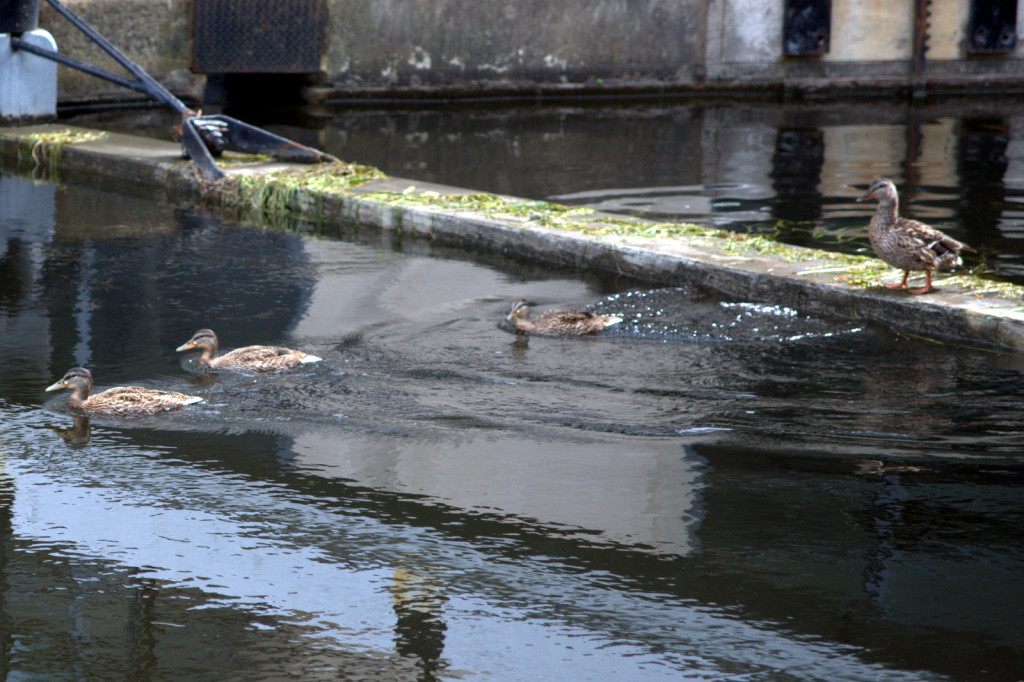 After a while they decided to see what was happening in the next lock, so they swam to the edge and, because the water level is lower in each adjacent lock, flew down to continue their swim. The lils thought this was neat, and started to chase, but our friends arrived so we left the ducks behind, and moved down to the river, where boats were starting to come up the locks.
We followed five boats for the better part of an hour, and happily met up with our duck friends as we neared the top.  Three of them were swimming in a lower lock, and one was on the edge above, set to fly down.  When they had seen this earlier, the lils had been greatly amused by the fact that the ducks flew into the lower locks, so I called their attention to this duck. We all looked to see her fly into the lock, but she didn't fly.  She jumped, as if she was doing a cannonball.  Sadly, this lock had a ledge at the bottom, a ledge that was all shiny and wet and likely looked like it was deep water, but in reality, that water was a centimetre deep at most.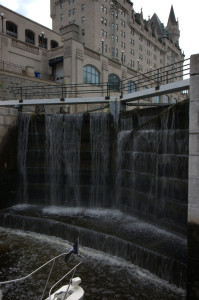 note the ledge of death at the bottom
This duck had just done a cannonball from twelve feet up and landed with a thud. I had encouraged my children to watch it, and now the duck had fallen onto her side and was twitching. We all watched horrified, thinking that she was going to die, and knowing that there was nothing we could do about it.  Woo was standing right in front of her, so I tried to get him to look away and come closer to me but he kept watching in shock.  I walked towards him as I mentally calculated the therapy bills. It's not every day that your mom invites you to watch a cute little duck leap to its death, right? As I got closer, I looked down to check on her.  She was quiet and not really moving.  I felt terrible.
All of a sudden there was a flurry of activity as one of her friends hopped up and started quacking at her and pushing her around.  This seemed to wake her from her stupor, but they still couldn't right her.  I thought about how lucky she was to have a friend come to try and save her, and what a comfort it must have been. Then the friend­-duck started to push her toward the edge of the platform, to the deep water. We all  kept watching, but feared that this was more likely to drown her and put her out of her misery than anything else.  She went over, and amazingly managed to flip over.  She swam away from the lock (in a straight line no less), gave everything a good shake, and was fine.  I am quite amazed at how she survived that fall and recovered so quickly.
The lils and I have two lessons from the day. Never, ever jump into a body of water without first checking what is under the water; you don't know what lurks beneath, or just how shallow that water is.  Keep your good friends close to you, as you may need them to slap you around and push you over the edge to save your life!