I knew I liked Willy's Auntie Murie the moment I met her. It actually was one of the worst possible circumstances under which you can meet someone for the first time.  Her husband, Ron, had just passed away, and we were paying our respects.  I know that it is unusual to meet someone at the wake for their spouse, but she knew of me and I knew of her and wanted to let her know that I was sorry.  In the months that followed, we actually got to see a fair bit of Murie.  We were the only Ottawa based relatives, and we wanted to check in on her.  That like became love, and even though I had met few of Willy's relatives at that point, she quickly became my favourite.
It's not that Murie became my favourite because the other members of Willy's family were crazy, mean, or crazy AND mean.  I am blissfully free from most of the stereotypical in-law "qualities" that plague many families.  I really like Willy's family.  The thing about Murie is that she welcomed me from day one.  I always felt included by her, and that she truly wanted to talk to me, hear about my life and career, and hear my thoughts.  The feeling was mutual, so we always had fabulous visits with her.  I loved to hear her stories; tales of her sisters; her time in England in World War Two, where she met her husband; and her memories of their life together.  We­­­ missed her when she moved to Toronto, and our visits became so rare.
We were not surprised, but still upset to get a call on Sunday afternoon, letting us know that Auntie Murie had passed away that morning.  She was 98 years old, had led a full and exciting life and her health had been deteriorating. We are fortunate enough to have artwork, books and furniture that she gave to us when she moved to Toronto.  It has always made me think of her, and will continue to do so now. Her presence will be missed by all of those in her family, including me.  She was my favourite.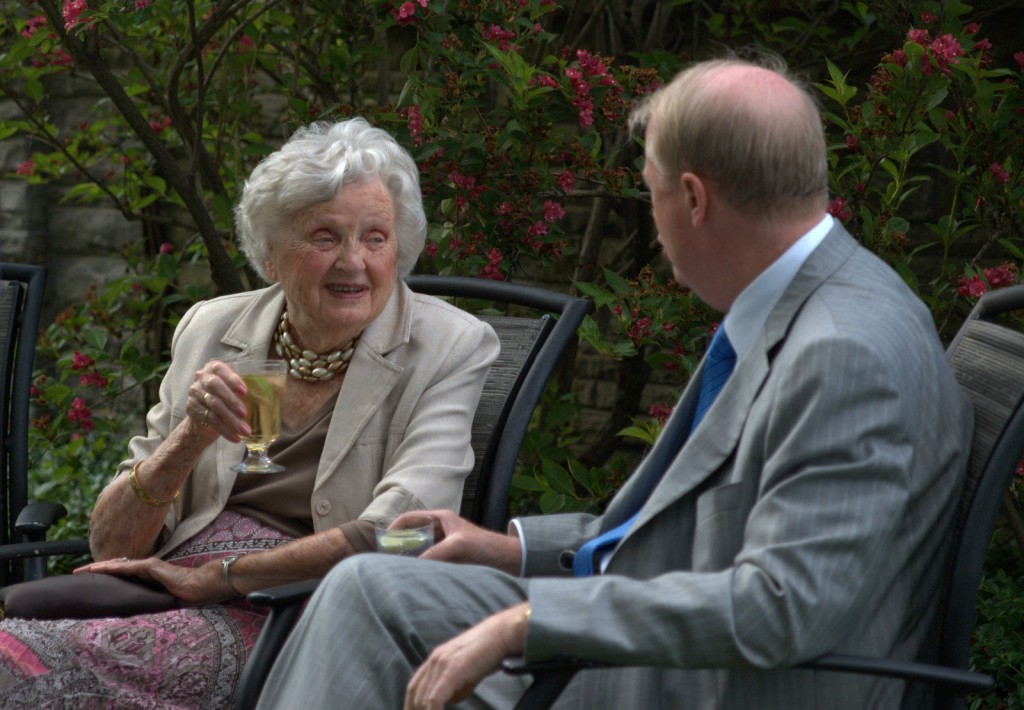 Auntie Murie chatting to her son Jim, the last time I saw her