Yesterday marked Independence Day here, the sixty-fifth anniversary of India's birth as a self-governing nation, free from British rule. It is one of three official holidays celebrated nationally in India, along with Republic day which commemorates the date that the constitution of India came in to force (January 26, 1950) and Ghandi Jayanti (celebrating Mahatma Ghandi, born October 2, 1869).  In our short time in India I have come to realize that there are MANY holidays here, most with some amount of religious significance and festival associated.
We were here for Republic day in January, and observed that it is celebrated much like Canada Day, in some respects.  There was a festive atmosphere and many fireworks, but I remember remarking that there did not seem to be the public display of national pride that I would have expected.  "Just wait until Independence Day", we were told, "it is a much bigger deal."
Indian patriotism was much more evident yesterday.  There were banners, flags flown on cars, little children waving flags, and painted faces.

On the whole, I found the day to be much more subdued than I expected.  In the morning we attended a flag raising ceremony in our community, listened to the national anthem, and snacked with our neighbours, then went out to brunch with a group of friends.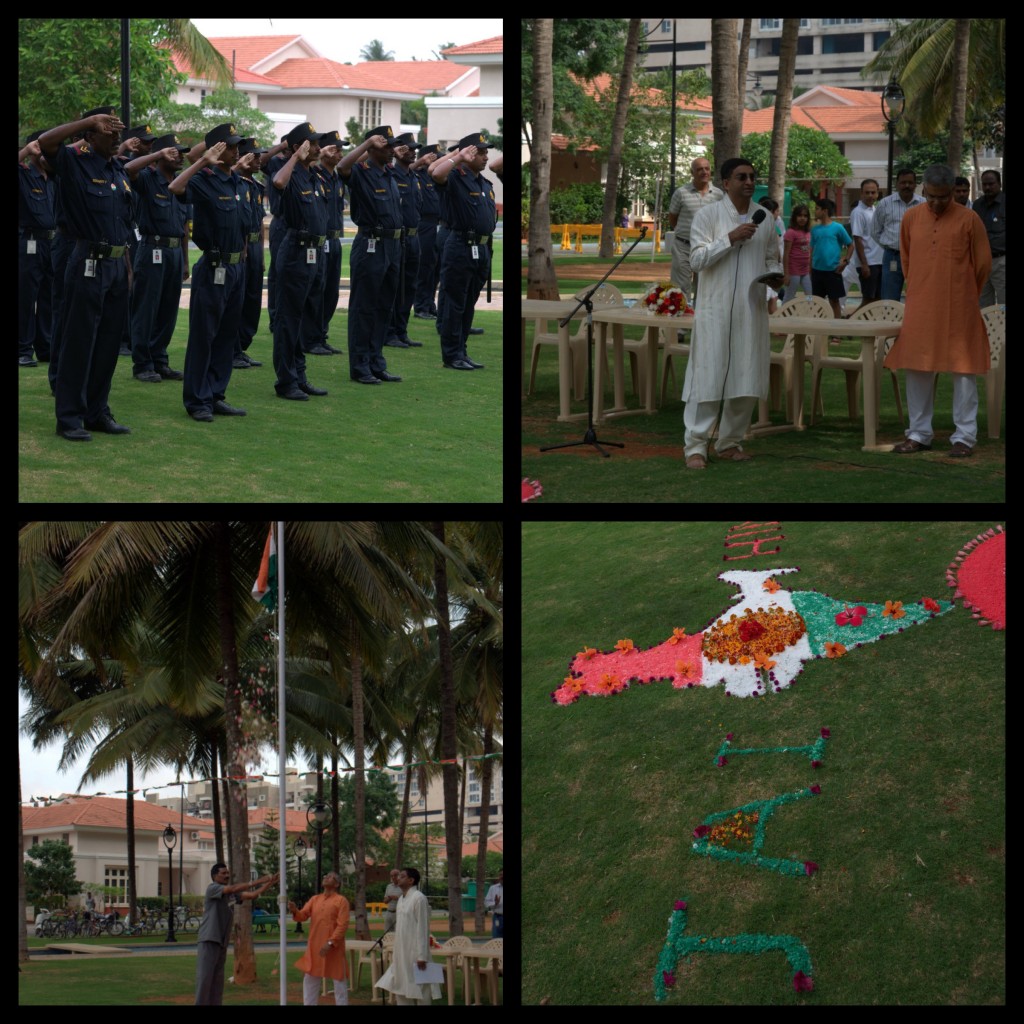 There despite the somewhat festive atmosphere, there was no real boisterousness, and shockingly, no fireworks! We had a great day, and the lils were very happy to celebrate India, but I found it a bit surprising.
The cutest part of the day for me was brought to me by Goose.  We had given all of our helpers the day off, although our gardener came to tend to our yard as usual.  He doesn't speak English, and I hadn't been able to connect with him when one of the other helpers was around to translate. I had tried to tell him not to come, but failed. I am not sure that he would have taken the day regardless, given that he has worked every other holiday, even those where he was clearly told he could and should take the day off.  This distressed Goose the most.  She has taken a shine to our gardener, who plays with her, cuts flowers for her, and most recently created a garden for her sunflowers.  She chatters on to him and he just smiles. When she saw him yesterday she ran out and tried to tell him that he should go and take his holiday. He just smiled at her and carried on with his work.
I did also learn some interesting facts that I learned about India on Independence Day:
India has both a Prime Minister and a President.  From what I can tell, the President is the head of State, and the Prime Minister is the head of the government.
India's current President was elected last month (ok I knew that), but that he was selected by the members of Parliament and the state legislatures, where as the Prime Minister is the leader of the victorious party in a general elections, which last occurred in 2009.
India is the world's largest democracy.  I really should have known that.
India has never invaded another country.
The peacock is the national bird of India.  I always thought it was the kingfisher