Our neighbourhood has a number of amenities that were a big part of the reason why we chose to live here. Sure, the food in the restaurant has gone way downhill, the local corner store has been temporarily closed for about six weeks now, and the pool bar does not have a liquor license, but there are still a number of great features. One of them is located at the end of our street, right beside the lil's park: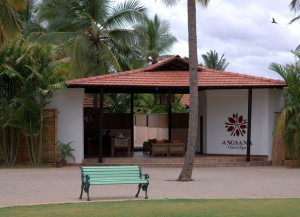 The SPA. They offer a long list of services, mainly massage and facials and have gotten rave reviews from any one that we have talked to, including a few of our house guest. Yet, we have lived here for eight months and I had not yet made use of their services. This is partly because they don't offer pedicures, my favourite spa treat, and partly because I am afraid that I will like it. Too much.
I was gifted with some Spa bucks from my brother-in-law when he was hear at Christmas, and have tried to use them on a couple of occasions, but had to cancel at the last minute with either sick lils, or travelling Willy, or a better offer (hey, boozy lunch IS important!). Earlier this month I noted that they were only good for six months, so I figured that I should get my butt in gear. The lils were off at day camp last week, so I had five whole days in which to use them. As luck would have it I was under the weather on Friday and had to move the appointment to today.
It was way worse than I thought it would be. My life here has been relatively devoid of pampering, and this was a royal pampering. From the décor in the open air lobby, the flowers that were floating everywhere, to the glass of freshly squeezed pineapple juice, everything said calm and relaxation.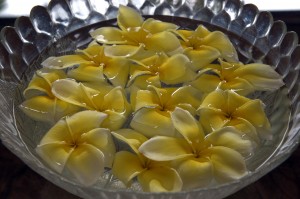 I was escorted to my little hut: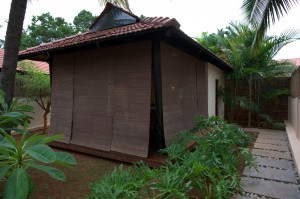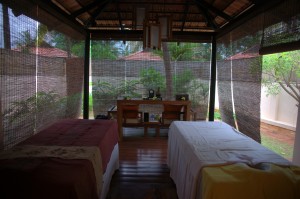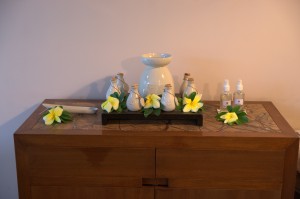 Then my masseuse quickly got to business, showing me the room, letting me get ready then beginning the massage. I had randomly chosen the "Javanese" massage, which was billed as a deep tissue massage that used Balinese techniques. It involved a lot of pressure and rubbing, and not as much manipulation as generally like, but it was good. I had asked her to use medium-hard force, and she didn't hold back. She even got up on the massage table a couple of times to work on some tense spots! The massage was billed as a 90 minute massage, which should mean a 60 minute massage and 30 minute "relaxation" period in my room. Either she lost track of time, or I was lucky, and she ended up giving me a full 90 minutes of massage. Right before the masseuse let, she started my outdoor rainfall shower and encouraged me to enjoy my calm time.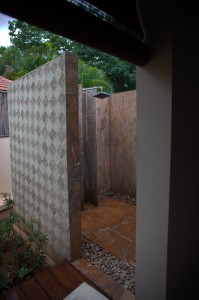 Now I need to figure out how to keep myself from going there all the time. I also booked Willy in for a 90 minute massage this weekend. I figure he can't get mad at me if he is doing it too!!!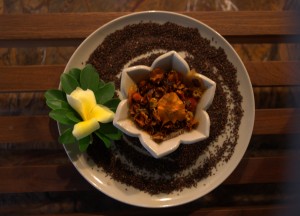 Just some pot pourri, under the massage table, hidden from view. Yet pretty… it's the little touches.