We just returned from an insanely busy and absolutely fabulous two week trip to Ottawa.  I was worried when I left that things would be different, and I would not know how we could fit back into our "old" life easily and quickly.  We were only going to be there for two weeks, so we were going to have to hit the ground running to see all the family and friends and hit all of our favourite haunts. I was determined to give it a good try.  Here are a few snippets of our weeks in Ottawa…
Goose and Woo, watching for our plane to arrive at the gate, and hanging out in Frankfurt airport.  The plane left Bangalore at 2:30 AM, and then there was a decently long stopover in Frankfurt.  Give them some planes to watch, a long hallway to roam in, or something to colour and they are happy lil ones!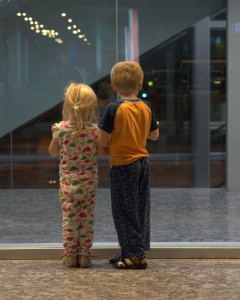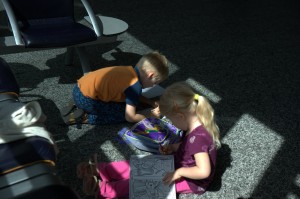 We managed to hit the Museum of Nature twice, including bright and early on our first morning back!  I decided to renew our membership, even though we were only there for a couple of visits, because we now live more than 100km from the museum, so two visits which included the special "Whales Tohora" exhibit meant that the membership has already paid for itself!  Here Woo and Goose are in the Children's play area, learning where the different whales can be found all over the world.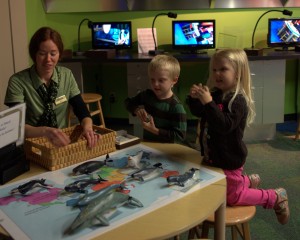 We headed to the country, where we were able to visit my cousin and her family at their farm, then my Grandfather, Aunt and Uncle at their farm.  In addition to catching up and eating way too much, Woo got to play some basketball with his older cousins, and I got to check out some of the tulips and all the apple trees that were in full bloom!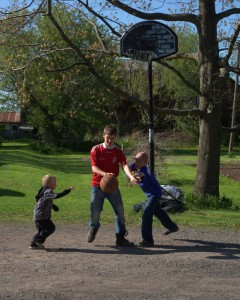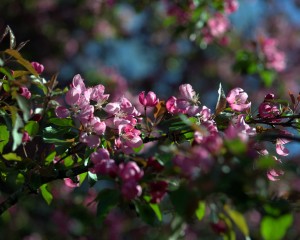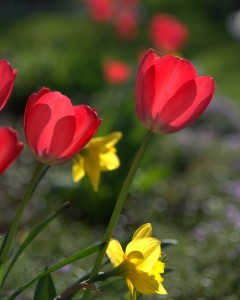 We headed to Mud Lake, our secret hideaway in the city, where the lils were most excited to be allowed to run around with no shoes on (we don't let them go barefoot outside here for a  variety of reasons), and I was most excited to play with my newest lens!!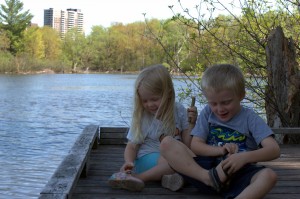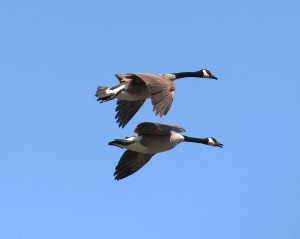 Woo and I went with Uncle Kentie for his very first golf lesson.  He loved it, though his form needs a smidge of work.  This was followed up by a round of mini-golf that got rained out after eleven holes, much to Woo's dismay.  He was consoled by some bugs and cheese for lunch, bought by mom, who came in third in the mini-golf.  We brought his new clubs to India, and he looks forward to LOTS of practice in the park.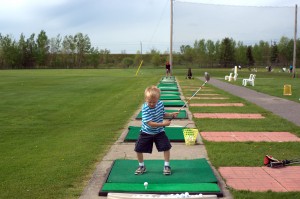 We convinced our friends (cousin) V and Monkey to play hooky from school for a whole day, and had LOTS of fun, including some very serious park play where no one would look at the camera. I'm just sorry that their mamas could not play hooky from work too!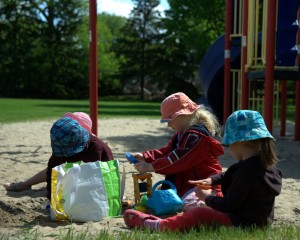 We visited our best pals at our old day care three times!  The lils loved hanging with the super awesome N (and even asked if they could just go back to daycare), and fell right back in with their pals.  They even re-affirmed their plans to marry one another!!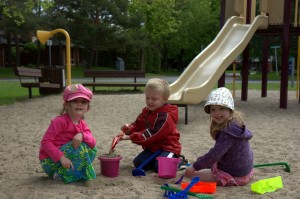 The second weekend of our visit was the May 2-4 long weekend, and was bright, sunny, and unseasonably warm for May in Ottawa (the temps broke 30C several days in a row). It was the perfect weather to attend opening weekend of the Ottawa Fat Cats, our semi-pro baseball team. I convinced my sister and friend Rebecca to come out, and we all had a great time.  I am still laughing at Rebecca, who innocently asked if I thought it might be too hot to go to an afternoon baseball game… we do live in India after all J. She wisely sat in the shade, while we enjoyed the hot sun for most of the game.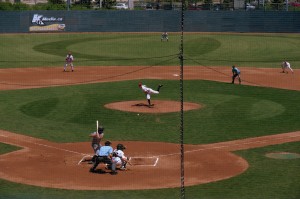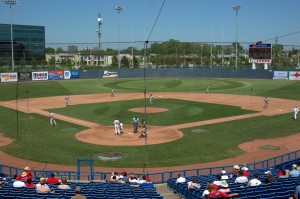 On holiday Monday we hosted an open house barbecue, which was really fun for me, as I do love to throw a party, and we don't do a lot of entertaining here.  Throughout the afternoon we saw many friends, family and neighbours, and loved the way it felt to have them all close to us.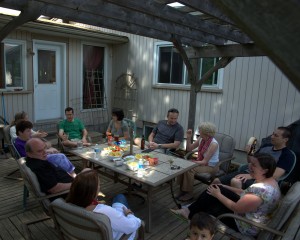 We enjoyed many visits by friends and our families, and were able to get out many evenings to hangout out (ok, and have a cocktail or two) with them.  Coming back to India has not been hard on the lils at all.  Despite their claims early in the trip to Ottawa, they did miss their friends and life in India. While I did too, it has been an adjustment trying to get back to the calm and quiet that is our life here.