If you are planning on visiting the Taj Mahal, and are looking for some tips, scroll to the bottom of this post
If you had asked me a little over a month ago if I thought I would gladly spend twelve hours (each way) travelling to a tourist destination, only to spend a little over three hours there, I would have told you that it would never happen.  I had just been through a couple of rounds of visitors, and several long trips both near and far from home, including a close brush with a cyclone.  The proposed trip was to see the Taj Mahal, though, so we started planning.
On my "bucket list", it was still a trip that I never thought I would make.  Likely the best known landmark in the world, it is in a place far, far from home. I longed to visit, to learn, to soak it in, and to photograph it.  Then we moved to India, and I knew that I could not leave without seeing it.
Our family left early Friday morning, flew to Delhi and drove to Agra.  Our plan was that I would hang back in the hotel on Saturday morning, while Willy went to view the building at dawn.  He was stood up by our driver, which actually turned out to be a good thing for us.  In making alternate arrangements for his transportation late Friday night, I learned that the hotel offered a horse drawn carriage ride to the Taj.  Knowing that the lils would LOVE this, I signed us up.
When Woo, Goose, and I met the carriage at the front of the hotel, they were literally humming with excitement.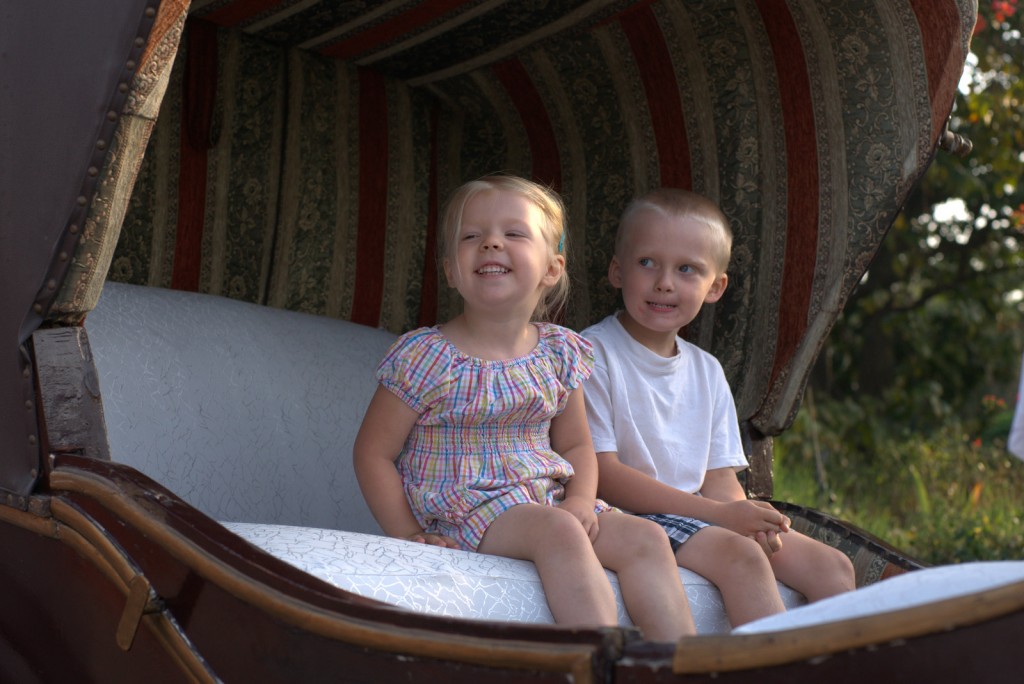 There were two attendants all dressed in white, guiding two lovely horses.  As we settled in, the driver had the horses trot a little down the laneway towards the road.  Woo looked up at me, his eyes as big as saucers, and said, "Mom, I knew they would run!!!!!", before he and Goose settled in to a content and quiet snuggle on the bench.  They watched in awe as we moved slowly down the roads, completely oblivious to the excited shouts and waves of the children we passed.  When we stopped to buy the admission ticket, one of the attendants placed them on the driver's bench so that I could take their picture.  When the other man returned with the ticket, they were allowed to stay up there and "drove" us to the drop off point.  This made the day memorable for us all.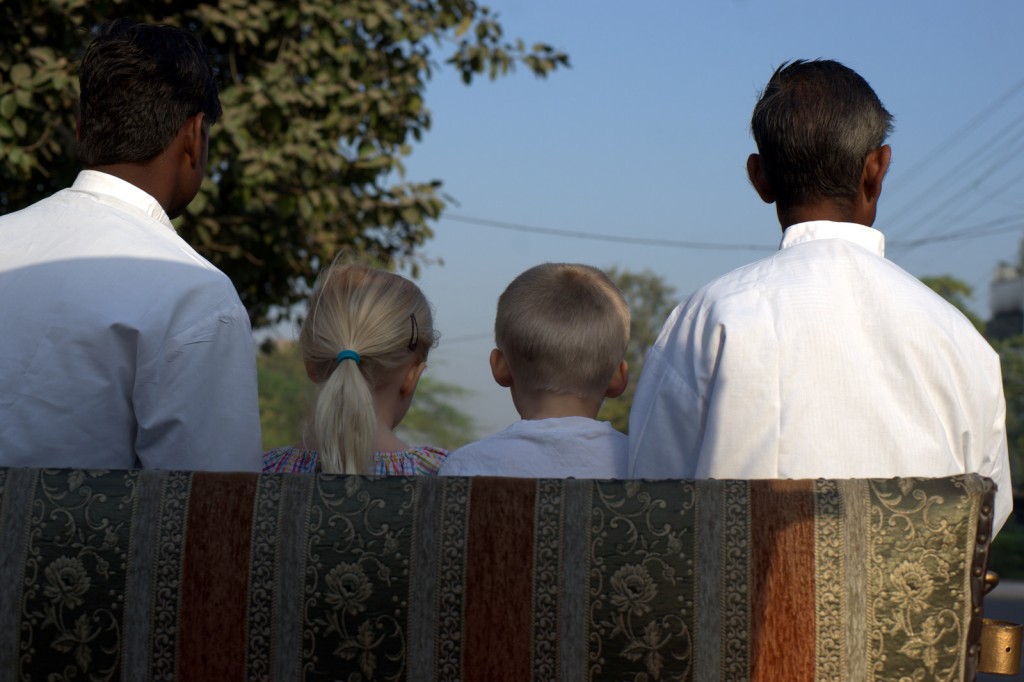 We were lucky and there was not a line at our gate.  We met up with Willy, and walked through the gateway to our first real viewing of the Taj.
We were all impressed, but Woo most of all.  He was quite keen to learn all that Willy had learned from his guide, and to get up close to the building.  As we walked along, I took a few shots and listened to Woo and Goose quiz Willy on the history of the building and the love story behind it.  I knew little of this, and took it all in with them.  As we paused to cover our shoes, I began to feel very emotional about our visit.  It wasn't just the story behind the building, which was built to honour Shah Jahan's wife, who had died in childbirth or the efforts made in the twenty-two years to build this magnificent building.  It was also the fact that I was realizing a dream of mine, and that I was sharing it with my family.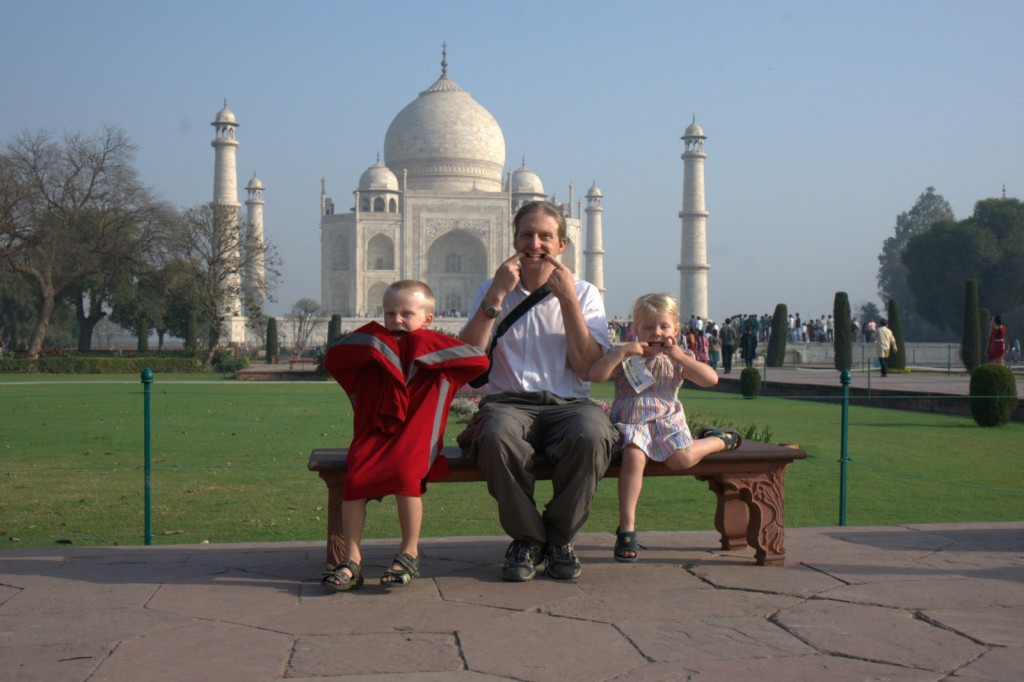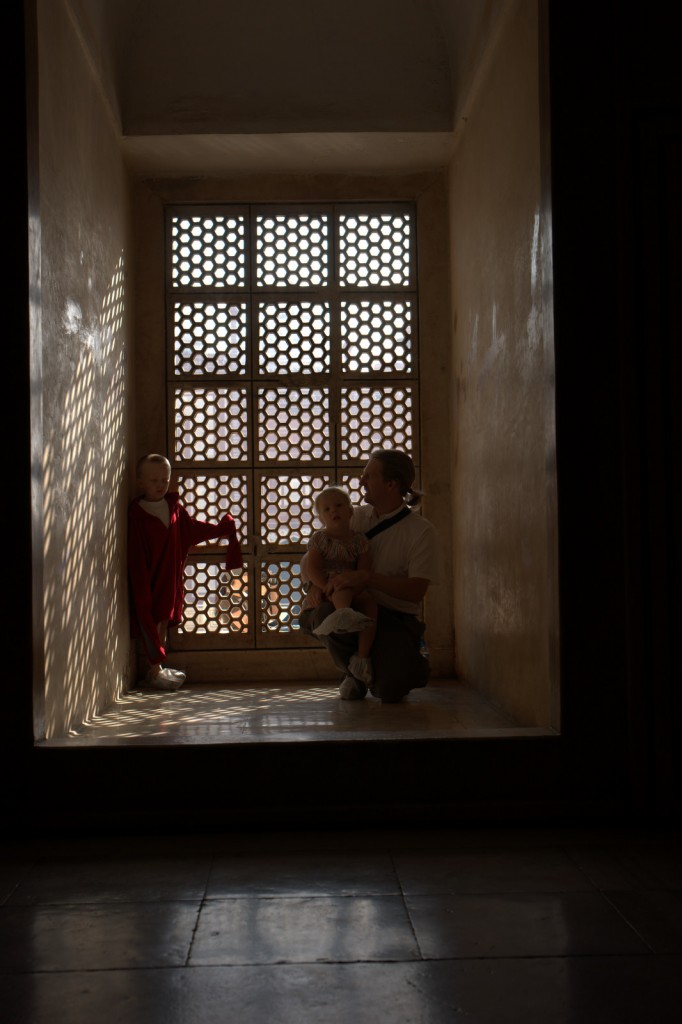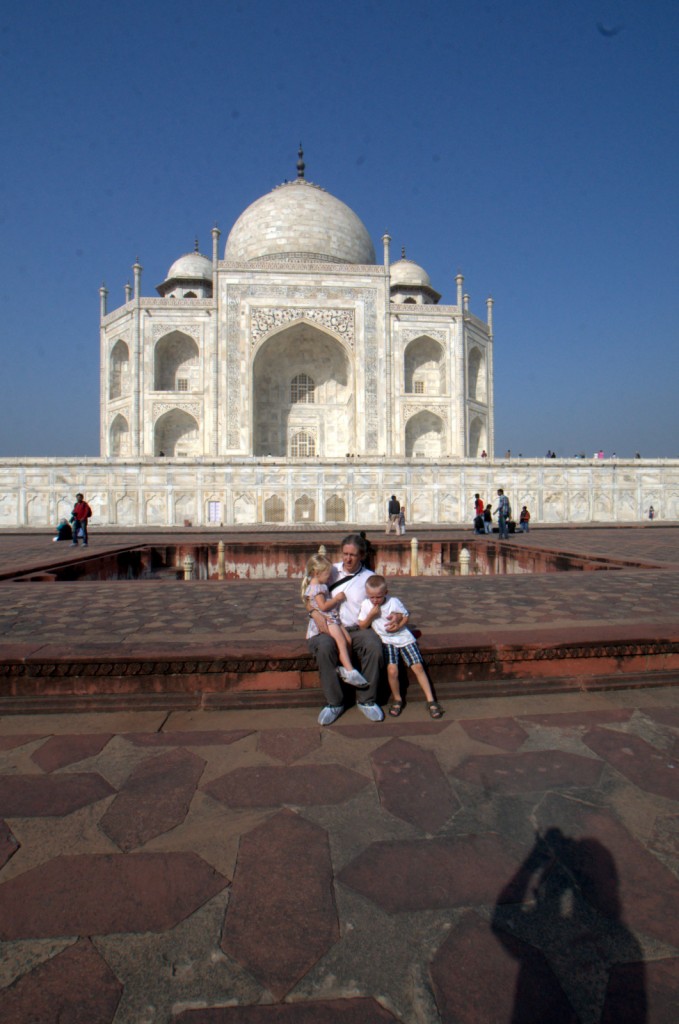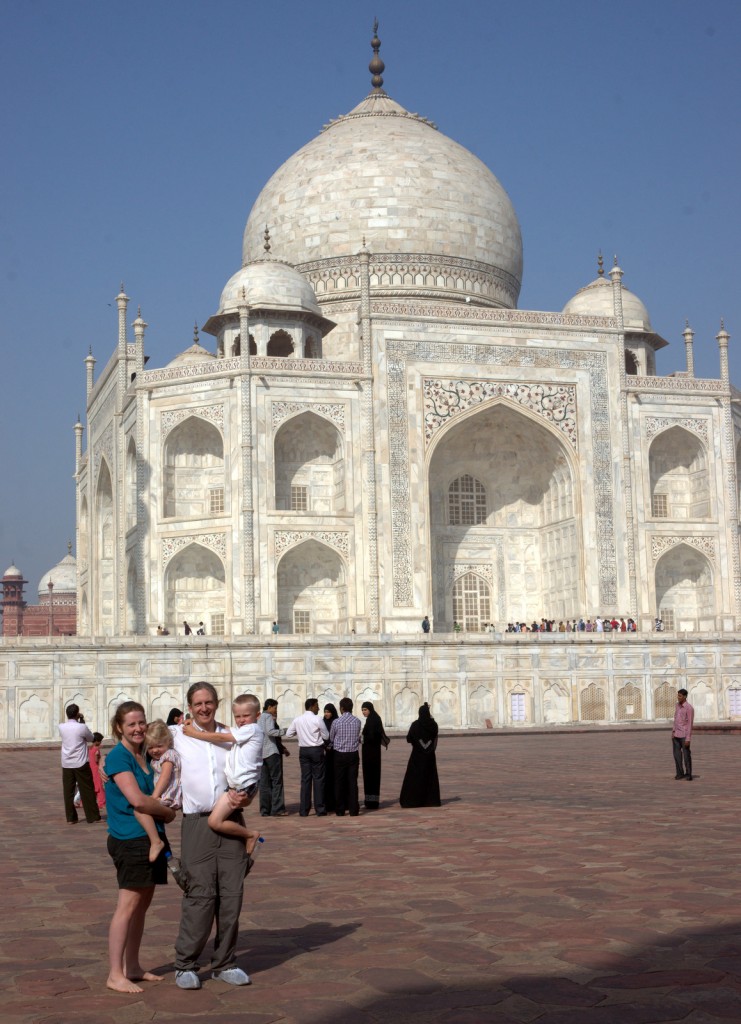 We wandered at a leisurely speed and soaked in as much as we could.  Willy was lucky to have had an hour or so before we arrived, and I will be going back really soon with some friends who are visiting from Ottawa, so we let the lils decide when they had seen enough.  After a few hours of soaking it all in, we returned to the carriage, and Woo once again drove us back to the hotel.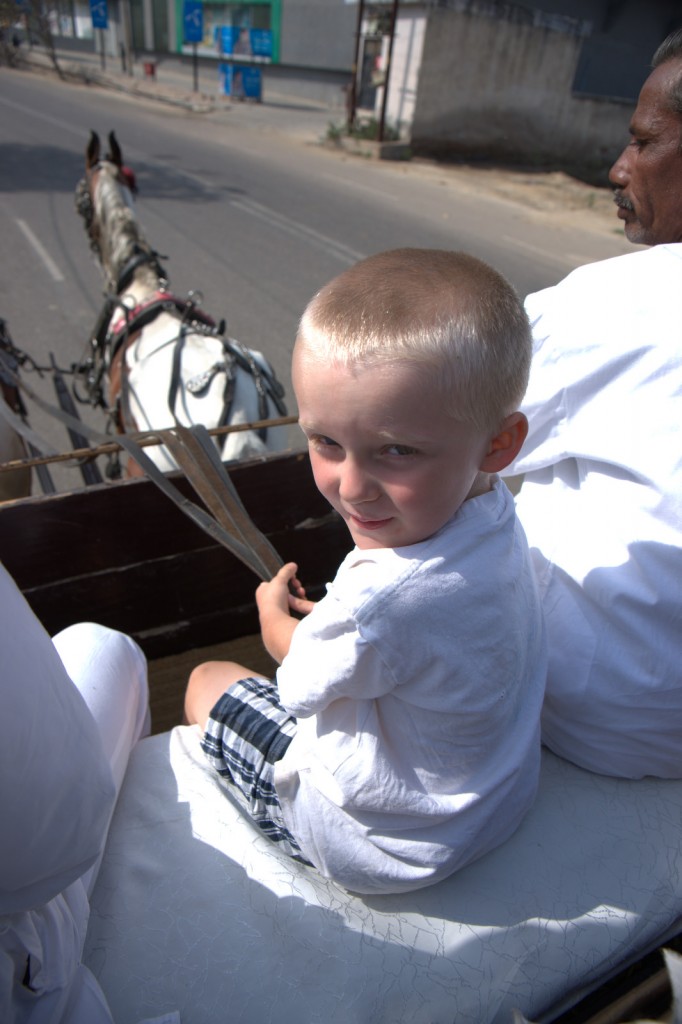 If you are planning on visiting the Taj Mahal, here are some of my hints and tips.
It is closed on Friday, save for prayers between noon and 2:00pm
The reflecting pools are drained on Friday and Saturday
Admission is 750rs (about $15 CAD) for tourists, 20rs ($0.40 CAD) for Indians
Children under the age of 15 are free
Your ticket is valid from sunrise to sunset, but there is no re-entry allowed.    So you can stay as long as you like once you are in, but you can't leave and come back under the same admission fee.
There is an evening viewing for the five days around the full moon, but you can't purchase these tickets on the Taj grounds.  it is limited to groups of 50, who are let in for 30 minutes.
You must buy your ticket at a separate building / queue.  The building for the East gate is quite far from the gate, but they shuttle you to the gate once you have purchased your ticket.
There are guides available, but there is great variability in the information that they provide you with.  They may or may not be affiliated with the Taj.
Ask at your hotel if they can buy the tickets for you and have them waiting.  Our hotel did offer this, but we requested it too late in the day.  It will save you standing in one line the morning of your visit.
You aren't allowed to wear shoes up on the platform surrounding the tomb itself.  You can get/buy little disposable shoe covers, but they are flimsy and you end up taking your shoes off anyway.
You are allowed to carry a small bag/knapsack, but only if it is not too big.
I found this post – http://vmphotography.com.au/blog/tips-on-photographing-the-taj-mahal/ to be really helpful in preparing for my visit and thinking about photographing.
If you are looking to photograph it (and I didn't really put much effort into photographing it THIS time), you are not allowed to bring a tripod in without a permit, which must be applied for well in advance.
Arrive REALLY early and don't stop to admire anything until you are in front of the tomb if you really want the shot with few people in it.
I brought my 11-18mm and 24-70mm lenses and felt that they served me well.  I might bring my macro too next time, just for some of the detail on the buildings.
You are allowed to carry a cellphone (I'd seen conflicting info on this)