It took approximately two months for me to get my mobile activated here. A lot of this was me, not being organized enough to figure out what I needed to do, but there were a number of steps and hoops that we had to go through. The first of these was to get it tweaked so that I could use my Canadian phone here, then to actually get hooked up to a plan.
The most frustrating of this was the "address verification", where they call on the mobile to arrange a time to come to the house to verify that we lived there. They called a few times, but I either missed the call, or did not understand the person on the other end, as they did not speak english. It took much back and forth between Willy and the provider and the phone getting disconnected once before we had resolution. It is now activated, and for the most part works when we want it*.
I have very few contacts in my phone, just Willy, our driver and the few friends I have made here. I don't get that many calls, and there is much text and voice spam here, so I generally ignore numbers that I don't know. Occasionally Willy will tell me that we are expecting a delivery, or that someone will be calling. On those days, I answer everything.
It was one of those days when I got a call from someone who only said "hello", repeatedly. I assumed that it was a dead spot in the house and he could not hear me, so I answered again when he called later. He still just said hello multiple times. He reached me a third time, and I tried to get more information out of him. I asked if he wanted to speak to me or Willy, if he was coming for work on the villa, if he was calling because our landlord asked him to. This time, he responded to me in what I believed was Hindi. I tried to explain that it was a wrong number several ways and hung up.
He called several more times that day, but I ignored the calls. Then I got this: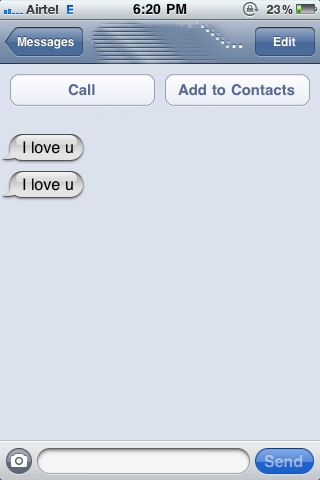 I ignored it. He still calls a couple of times a day, I still ignore him.
*Data plans are silly cheap here, and when you are in the right spot, the connection can be lightening fast. Finding that right spot can be difficult tho, especially when you are on the move. You get what you pay for, right?