I like the fact that the lils believe in Santa Claus, and his ability to magically deliver presents to children all over the world.  I know that we are essentially lying to them when we talk about him, but they are small and the Santa/Christmas myth doesn't just have to be about commercialism and greed. I try not to lie directly, and ask them how they think it works when they ask specific questions.  They come up with some pretty awesome answers, and mostly convince themselves that parts of the story are plausible.
That being said, I've suspected that Woo has been convincing himself that Santa exists for the last couple of years, but he tries really hard to believe.  This year, I started to have my doubts about Goose.  The first clue was at the Santa Claus parade.  It was a magical snowy day, and the lils were having fun donating coins and getting free candy canes, but there were not terribly interested in when Santa would appear.  He wasn't really a big part of the experience for them.  Then just before his sleigh appeared,  we saw this guy: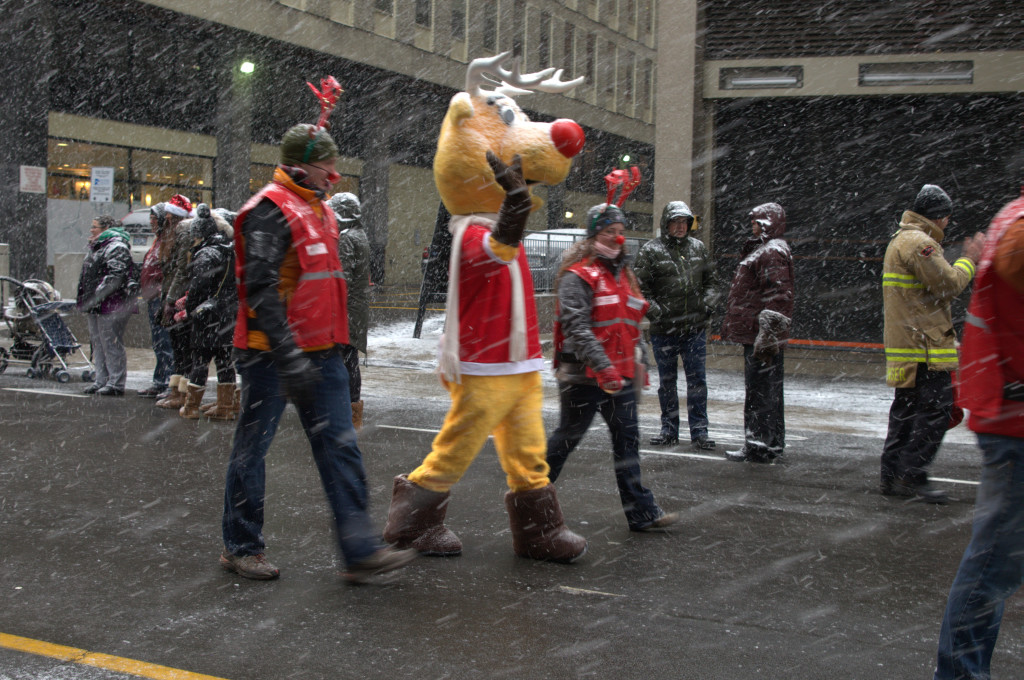 "Hey!" said Goose, "There is Rudolph, or a guy in a Rudolph costume, actually." No magic there.
Then a few weeks later, Goose came home and reported that Mr. Coombs had given their class candy canes at school that day.  I remarked that that was nice, and thought nothing of it until I picked her up the next day, and the JK teacher asked if Goose has told me about Santa's visit.  I was surprised, as she had said nothing.  The teacher laughed and told me that could be because her reaction when Santa walked in was to very loudly ask "What is Mr. Coombs doing in a Santa suit?!"
Then we went away for Christmas, and they got into the spirit; watching the chimney from the skylight in their room, prepping the Santa snacks and sprinkling reindeer food on the snow, and tracking Santa on NORAD's website.  It appeared that the magic was saved for one more year, until today, when they found the bag that I had stashed all the packaging from the gifts that went in their stockings, which had inadvertently been packed and brought home from Toronto.  They looked through it, and it was clearly evident that this trash related to the gifts that "Santa" left in their stockings, yet no questions were asked.  Is it possible that we are now the ones being fooled??