We have all gotten them.  Back in the day, they came by postal mail, and asked that you write out the letter and send it to some random number of people to either ensure world peace, or prevent eternal damnation.  Sometimes there was a list of people that HAD participated, and you were supposed to add your name to the bottom when you sent out your copies.  I never forwarded any of them on, which likely explains why there are still wars in the world and the fact that I am going to hell.  Still, I don't forward the emails that these letters eventually became, and I can't be bothered to update my status with whatever is going around to raise awareness for various causes.  I am clearly going to hell.
As we were getting the lils ready for bed tonight, our doorbell rang.  It was odd because it never gets rung, unless we are expecting guests; and the front of our house was completely dark.  I was reading to Goose, but curious enough to answer it. When I flipped on the light and opened the door I saw no one.  Kids, I thought, and was about to close the door when I looked down and saw a brown paper bag on the edge of the porch.  I reached for it, then hesitated, as you never know what is in a brown paper bag that is left, in the dark, on your porch, about a week before Hallowe'en.  I sniffed and noted that it was not flaming, so I picked it up and brought it inside.
Once I was inside, I noticed that "Happy Hallowe'en" had been written on the bag.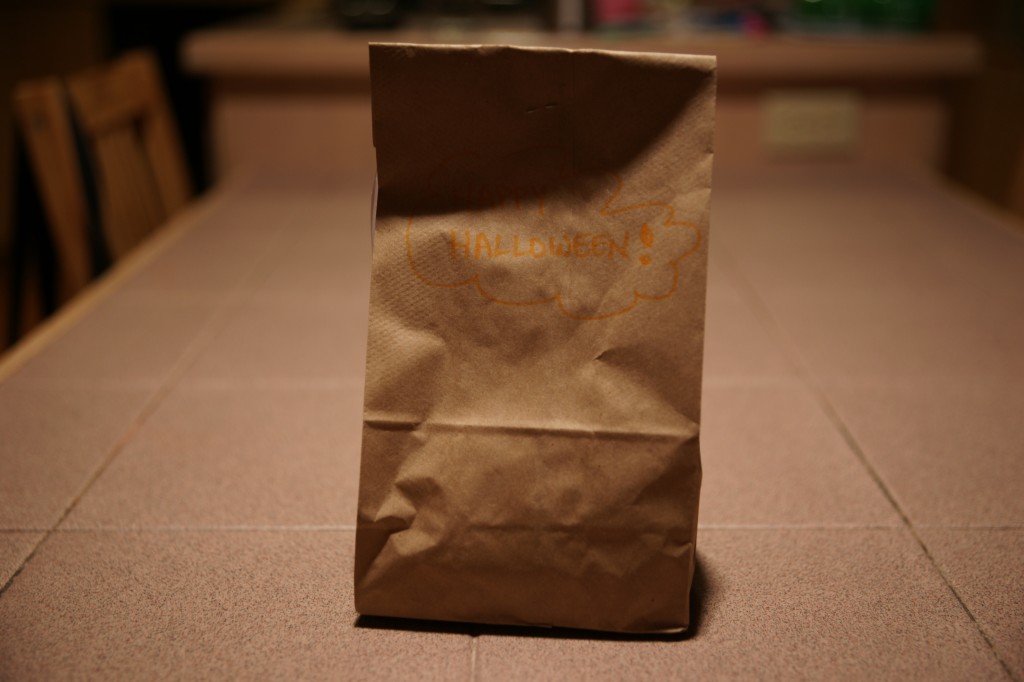 I turned it over and saw this (you can read it if you enlarge the picture).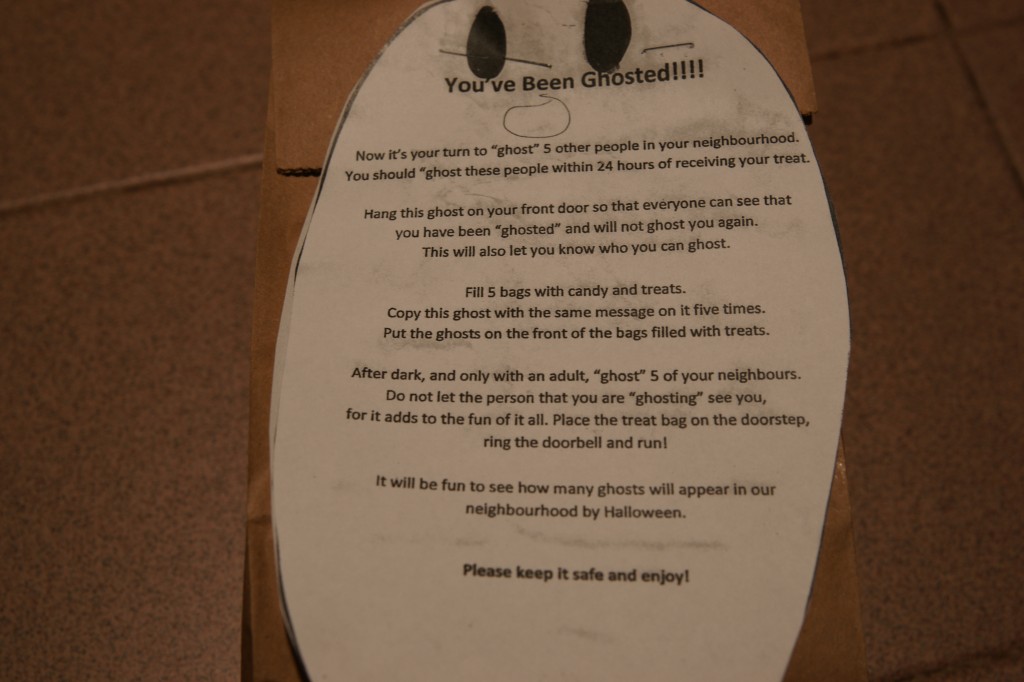 The Coles notes version of the text is that the bag is filled with candy.  The recipient is supposed to keep the candy, but fill five more bags, drop them on their neighbours porches and dash before being seen – they are "ghost" deliveries of candy.  My heart sunk a little as I ready this.  A chain letter.  A Hallowe'en chain letter that comes with candy.  I love Hallowe'en, I really do, but I can't do this, because I hate chain letters.  Not everyone loves holidays that I love, not everyone shares the same beliefs, not everyone believes that a letter will bring world peace.  There is no obvious agenda  here and no goal other than sharing a little candy, but deep down, it is still a chain letter.
I'll eat the candy though.