One of my earliest memories of defying my parents always happened under the cover of darkness.  I used to lie in bed and secretly listen to the Montréal Canadiens broadcasts on my radio, long after I was supposed to be asleep.  i never got caught, but growing up in a family of hockey fans, maybe I did… I was a diehard Habs fan for a long time, until Ottawa got the Senators and I became a season ticket holder. Hockey was a big part of my life growing up, so it is no surprise that it still is now.
The lils have grown up with hockey in their lives.  The first time we left Woo alone with a sitter was to go to a Sens game in the spring of 2007, something that was repeated many times that spring. Hockey is pretty much the only thing that they have been allowed to watch on TV for their whole lives, including this past year in India, when Woo and Goose often got up, on their own, in the pre-dawn hours to watch the playoffs with me.  In addition to watching on TV, they have both spent many an afternoon watching their Daddy play with his beer league team, and have been given all the pieces needed for many a game of living room, and then basement hockey (this change was necessitated when Woo decided to start using a real puck and learned to raise said puck). We were gifted with several full sets of ice and road hockey gear, so both lils happily play in the basement, suited up, for hours.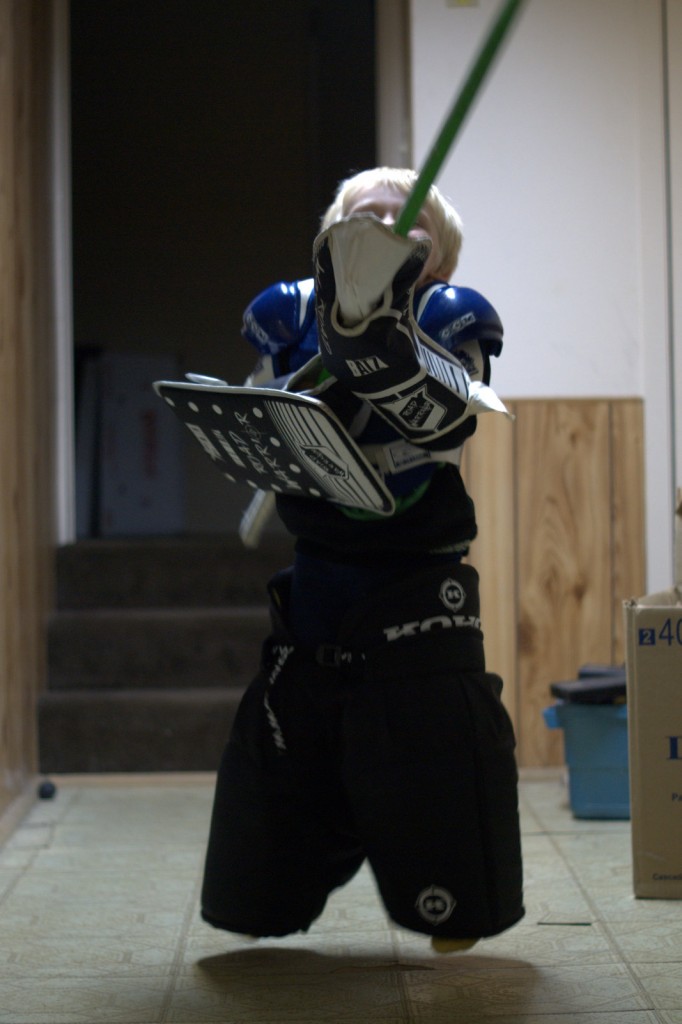 The winter before we moved to India was the first that Woo was really skating, on real skates. He loved it, and begged and pleaded with us to go to the local rink EVERY DAY.  We went as a family occasionally, but more often than not it was just Woo and Willy, skating, shooting pucks, goofing around.  He was so sad the day that the rink closed for the season, but had big plans for the following winter.  Those skates turned into roller blades when we moved to India, and he loved it ALMOST as much.  One of the things that we all missed was winter, and as soon as we knew that we were coming home, Woo started talking about skating.
Still I hesitated to enrol him in hockey upon our return. I didn't want to be the parent that forced their lil to play a sport that they never played/played well, and I wanted to make sure that I was putting him in it because he liked it, not because I liked the idea of it.  It was a visit with friends, just days after getting home that convinced me to give it a try.  Their daughter is the same age and starting out this year, and she is loving it. We wanted to let him have a chance to see if he felt the same. We found a spot for him and filled him in on the plan.  He was hesitant when he heard that his dad wasn't going to be on the ice with him, but it took mere minutes (and a trip to Canadian Tire for a new stick etc) to get him excited.
His first practice was this past Saturday at 7:00 AM.  Willy took him, despite fighting jetlag.  All of my fears melted away when he walked in the door and told me that it had been "good, great, awesome, awesome, AWESOME!!!!" He was hooked, in one short hour.  Sunday afternoon, he and Willy headed to the closest rink for public skating and spent the better part of two hours on the ice. He came home happy and excited to go again.  I can't wait for the ice to be put in in the park so that we can go every day after school.  Time for Goose and I to get new skates, and maybe, just maybe, time for me to start to play hockey again.