The past two days have been marked by two significant power outages in India. The first occurred in the very early morning on Monday, and knocked out power to 370 million people across seven states, including Delhi, in northern India. Power to most, but not all, of those affected had been restored by the time the second outage occurred this afternoon. This outage was more widespread, and affected over 600 million people across 22 states. Both outages are blamed on several states having overdrawn from the grid. The grids in the North, East and North East are interconnected, so once the grid started to collapse, it cascaded across the regions.
These outages remind me very much of the great power outage of 2003 that affected almost 60 million people in the northeastern US and eastern Canada. It too came as the result of a station failure in a time of high demand, and led to a cascading failure across the continent. There are two differences, as far as I can see. The first is that this affected ten times the number of people. The population of North America is roughly 530 million people, and this affected more people, many of them twice. The second is that the power situation is far from what you would call stable in India. Hell, I'd wager that on any given day a large percentage of the population in India will have faced some kind of power interruption at least once.
I have received many messages from family and friends, concerned that we are without power. Thankfully, Bangalore has not been affected, as it is on the Southern grid, which is unaffected, and perhaps more importantly, unconnected to the other grids that serve the affected areas. The truth is that I likely would not have noticed at all, as our community is served by a back-up generator that cuts over within minutes of the power going out, and we have UPS coverage for things like the TV and the computers/routers. Our inconvenience, at first, would be just that, an inconvenience.
Each time that the power goes out, and it goes out EVERY day, I think of the people who don't have generators, don't have power line conditioners, and don't have UPSs. They aren't so lucky, and if they live near me, there are days where the power is off all day, or cuts out a dozen or more times. We have had a number of things fail because they were not protected, including the power supply on our brand new TV, our induction cooktop, and our water purifier (three times). Shockingly, these were all fixed under warranty.
I don't pretend to be an engineer, or an expert on what ails the power supply chain in India. I do believe that the problems are equally split between management and maintenance of the grid. The fact that the difficulties are so clearly widespread leads me to the conclusion that there is widespread mismanagement, from the Power Ministry down. The fact that I see scenes like this everywhere I go? Tells me that maintenance/security/installation is also to blame.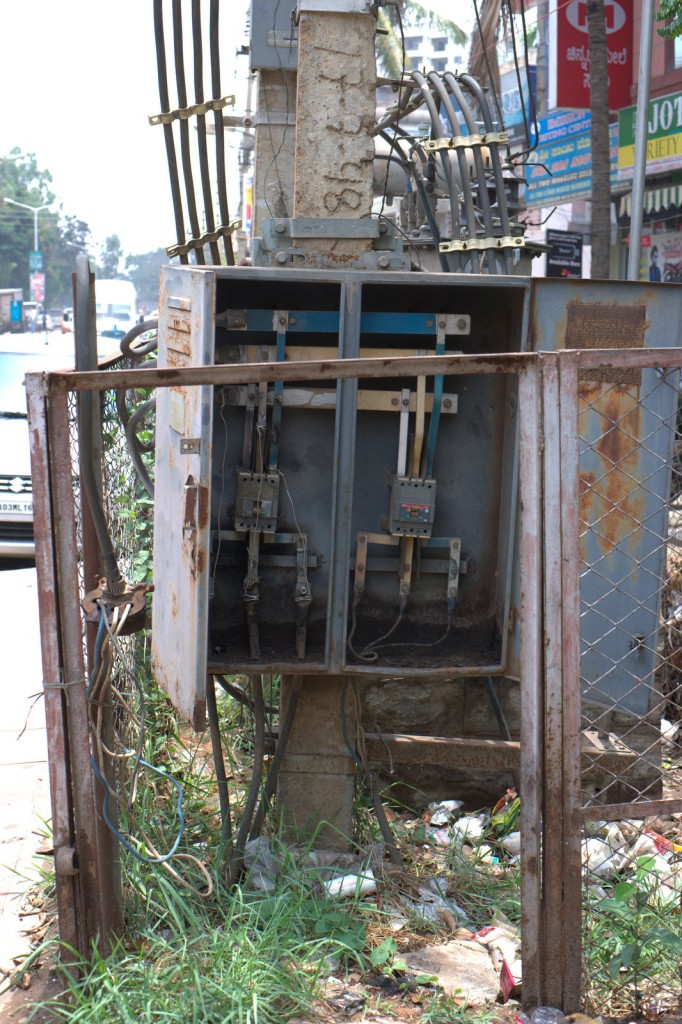 Most nights, Goose goes to bed with a story, and then quietly sings to herself in the dark. Whenever the power cuts in this time, she always pauses, then sings out, "power's off…" if she is still awake when it cuts back again, she follows up with "power's on…" It's just the normal around here.